The Board of Directors is elected by the members of the Mennonite Benevolent Society at their Annual General Meeting.
The MBS Board is comprised of twelve men and women from Metro Vancouver and the Fraser Valley, representing a wide range of distinguished careers in business, management, academia, public service, medicine, education and the social sciences.
With a pervading sense of faith in God, compassion for our residents, and respect for each other and the staff, the Board of Directors is committed to the vision that began in 1953 of providing long term care and housing—and to keep growing in our capacity to do so.
Directors for 2017/2018
Gerd Bartel, President, Delta
Catherine Kidd, Vice-President, Surrey
Jake Barkman, Abbotsford
Rudy Kasdorf, Abbotsford
Hans Krueger, Delta
Ron Ratzlaff, Chilliwack
Sylvia Robertson, Chilliwack
Robin Caldwell, Chilliwack
Arnie Friesen, Abbotsford
Deanna Klassen, Abbotsford
Mark Rempel, Chilliwack
Jay Teichrob, Abbotsford
President & Board Chair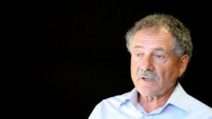 Gerd is retired from a rewarding career in Education, having spent most of his 33 years teaching and leading a High School Mathematics  Department.  He has always been involved on Church, Conference and non-profit societies as a member of a board or in the leadership of a Board.  He has been the Vice-Moderator of  Mennonite Church Canada and the Moderator of Mennonite Church British Columbia.  Gerd has also had extensive experience in fundraising and  development and is presently a part time consulting Development Director for Mennonite Central Committee British Columbia.
Vice-President & Vice-Chair

Catherine is a Registered Nurse who received her Bachelors in Nursing and her Masters in Nursing from the University of Manitoba.  Prior to her retirement in 2011, Catherine was the Executive Director, Worksafe & Wellness for Vancouver Coastal Health (VCH).  For the past several years, Catherine and her team led a Board driven strategic initiative for VCH called Safe and Healthy Workplace, a strategy to achieve quality care and service for the population served by VCH based on the belief that  safe and healthy staff provide quality (and safe) care.  Measuring the outcomes of this initiative, in large part, was the subject of Catherine's most recent research.  In her extensive career in health care, Catherine has had experience in direct care, education, senior management and research.  Catherine is currently the Congregational Chair for Bethel Mennonite Church in Langley, where she and her husband have served in various capacities over the past fifteen years, including Head Deacons and Coordinators of the Alpha program.