The children had been sitting with their dying mother for several days. On our first visit Edith and I – along with the family – expected that God would call their mother home any hour.  On our second visit, some three days later, we again sat with the family, expecting God to call her home any moment. After reading Psalm 23 and praying slowly and clearly so their dear mother could hear, one daughter asked, "Pastor Walter, why is death so hard?"
How would you answer this question? The question may not have been a question at all. Was it an outburst of anger, accusing God, "Why, God, is death so hard for my mother?"
I did not answer the question. Instead, I took the daughter's words as an agonizing plea. I was silent for a minute. Words often do more harm than good in times of grief.
The story of Job's three friends illustrates this. When they heard about all that he lost – his children, wealth, and health – "They set out from their homes and met together by agreement to go and sympathize with him and comfort him…they sat on the ground with him for seven days and seven nights. No one said a word to him, because they saw how great his suffering was." Job 2:11-13. Jews speak of "sitting shiva" – literally "sitting sevens." A Jewish tradition is that friends will come and sit with a person who mourns for one week. Also, in the Hebrew language "sympathize" means "body movement, shaking back & forth, nodding the head."  Job's friends sat next to Job and took on his anguish for seven days.
Another story from Scripture demonstrates the importance of walking with someone in their grief. Jesus felt the loss of two sisters, Martha and Mary, when their brother Lazarus died. When Jesus finally came to visit them after his death Martha's first words were, "Lord, if you had been here, my brother would not have died." (John 11:21) Was Martha blaming Jesus?  He had healed other people. Why did Jesus not heal her brother before he died?
This story of how Jesus showed compassion made such an impact on the Apostle John that he remembered Jesus' grief and love some sixty years later when he wrote the gospel of John.
May these example of Jesus' compassion inspire us:
1st: Jesus saw Mary weeping. (11:33)
2nd: Jesus saw the Jews who had come along with Mary also weeping. (11:33)
3rd: Jesus was deeply moved in spirit and troubled. (11:33)
4th: Jesus asked, "Where have you laid him?" (11:34)
5th: Jesus wept. (11:35)
6th: The Jews recognized how deeply Jesus loved Lazarus.  Jesus expressed his emotions. (11:36)
7th: As Jesus came to the tomb he was "once more deeply moved." (11:38)
When we visit people in a crisis – like Jesus visiting Martha – we have an option.  Will we minimize their loss and give platitudes, quick promises, and shallow prayers? Or will we sit with them in their loss and regrets – knowing God will walk with them as He walks with us in our crisis?
We need to ask ourselves, does being around someone who is unhappy (mourning) get in the way of our own demand for happiness?
Are we uncomfortable with those who grieve?
Can we stand the silence of grief?
Do we deal with grief by needing to say something – anything – often something very unhelpful?
There may be more truth to "Be still and know that I am God," that we will only demonstrate when we are still.
Crisis is not just something we minister to – it is something we minister from. This means when we come to a person who is in crisis the issue is not primarily what we can give to the person.  The primary issue is what is happening in our own soul.  Can we rest and be still – trusting God will quiet us and hold us?  When our faith is secure in our Almighty God, then we can begin to minister from a deep trust in God.  Then the person in crisis will feel the care and love from God because we are feeling it as well.
One of the most misquoted verses you'll never find in the Bible is this one: "God will never give me more than I can handle." Often God gives us more than we can handle so that we'll have to trust him and also lean into other people.
Yet we try to stay in control. However, our desperation is the very place where faith and trust in God actually begin. But, can we be weak?
God wants to work through our vulnerability and comfort us with his presence in the midst of it.
Maybe we will bless more people with our limp than with our strength.
Maybe we will care deeper with our silence than with our profound words.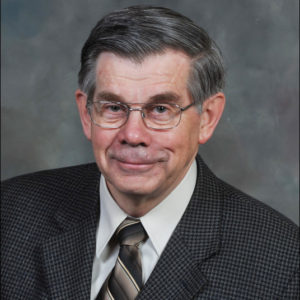 Walter Wiens
Pastor Walter has served as Pastor and Chaplain for many years in different locations, and at Clearbrook MB Church for the past 15 years. His primary passion is with the elderly. In this he leads the church's visitation and care ministry, provides care seminars, and writes articles on caring for the elderly."
Menno Place