Men's Breakfast
June 15th in the Menno Apartments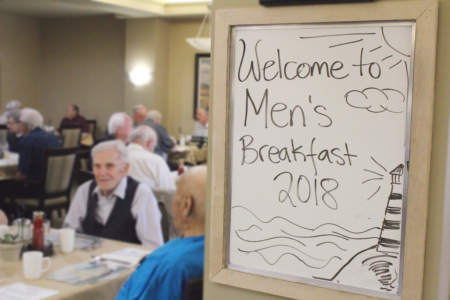 On the Friday before Father's Day each year, the men of Menno Place are gathered for a celebration in their honour.
Before breakfast was served by the Leadership Team, Chaplain John Dyck shared a few words of blessing. He began by naming all of the men who have passed away in the previous year – remembering them and honouring their contributions to the Menno Place community.
John continued, "when I think about men, I think of faith. I think of the legacy of faith that is shown and passed on to us." He then asked the group to join him in singing a favorite hymn, How Great Thou Art. The room was filled with the deep, powerful voices of these men who have truly experienced the greatness and faithfulness of God.
It was a wonderful morning of fellowship, and a time to honour the legacy that these men continue to build with their lives.