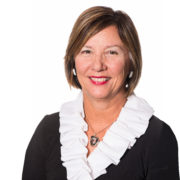 Karen L. Baillie is the Chief Executive Officer of Menno Place, a campus of care operated by the Mennonite Benevolent Society in Abbotsford, British Columbia since 1953. Menno Place serves more than 700 seniors with a staff of 600. Karen has more than 35 years experience in geriatric care including executive and senior management positions in administration, staffing, resident services and nursing. Prior to joining Menno Place, Karen served as the Executive Director of Laurel Place in Surrey and at Vancouver's first campus of care, Haro Park Centre. She also participated in opening St. Vincent's Langara in 1991 for Providence Health Care. Karen began her leadership in the residential care sector in a 30 year-old family-owned business which operated three small care homes.
Karen has worked extensively with non-profit Boards and with private ownership facilities. Her association with the BC Care Providers began in 1980 when it was organized as Pri-Care. She is currently the vice-president for the Board of BC Care Providers.
Karen is the recipient of the 2015 Chapter Award for Distinguished Service for the Canadian College of Health Leaders, BC Lower Mainland Chapter. In 2011, Karen was awarded the prestigious Surrey Women in Business Award in the Professional Category.
Karen has been a surveyor with Accreditation Canada since 2005, championing best practices and embracing professional expertise and innovation through colleagues. She chaired the program advisory committee of the Vancouver Community College (VCC) – Continuing Care Program Advisory Committee for 16 years. She is currently the Vice-Chair of SafeCare BC.
Karen holds a Masters of Health Administration; a Fellow in Health Administration (with distinction); a Certified Health Executive designation (CCHL) and is a Registered Nurse with a Bachelor of Science in Nursing.
Karen believes strongly in lifelong learning, faith-based service and in volunteering as an educational consultant, preceptor and mentor. She has a passion for serving seniors with excellence, dignity and compassion. Karen is an active member of Level Ground Mennonite Church.