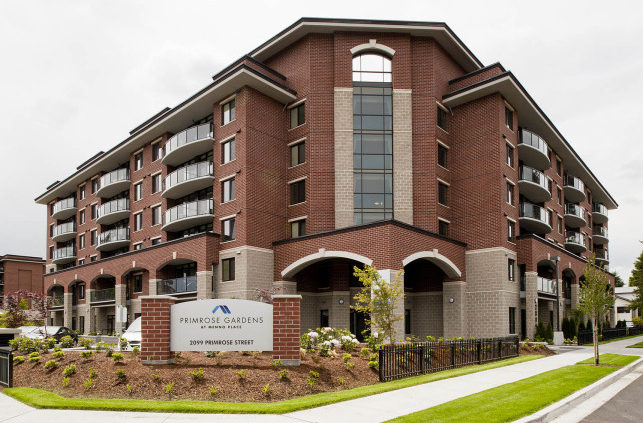 Primrose Gardens was built in 2010. There are 97 one bedroom and 8 two bedroom suites in Primrose Gardens. The suites have full kitchens, walk-in showers and a walk-thru closet from the bedroom to the bathroom. Winner of the 2011 Fraser Valley Real Estate Board Commercial Building Awards.
One Bedroom Suites: Pricing
Prices of suites are based on the floor (1-6) and the view.
Prices range from $2150/month – $2,500/month.
Two bedroom suites: Pricing
Prices are based on double-occupancy and range from $3,075/month to $3,375/month.
What is included in the rent
The monthly rent includes:
daily noon meal
full recreation calendar
morning & afternoon bistro
laundry facilities
walk-through closet from bedroom to bathroom
walk-in shower
additional storage locker
hydro (electricity/heating)
hot water
Additional Costs
Additional Costs:
Phone
Television Cable
Underground parking
Second person / Spouse
Laundry Service
Housekeeping
Evening meal 7 days/week
Call Today – 604.851.4000
The Lobby, Bistro, Activity and Dining Rooms